Large Passivehouses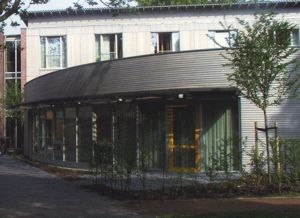 Since the first care home to passivehouse standard was built in Mönchengladbach in Germany an increasing number of larger projects are being realised in Central Europe and Scandinavia. These include schools, office buildings and institutions.
Particularly when it comes to institutions with their special requirements to air quality and heating, passivehouses are excellent choices, both economically and from the point of view of quality of life for staff and inhabitants alike.
The globally leading design and planning company in this area is Rongen-Architecten, headquartered in Wasenberg, Germany, and with offices throughout the world, including in China. Zero-Carbon Solutions offers Rongen's services to the UK market.
Follow New Buildings --> Large Passivehouses --> Care Homes in the menu to the left to learn more about Rongen-designed care home projects.